Savor a day of exceptional food, wine, and music at Taste of Napa, the annual celebration of the bounties and splendor of Napa Valley. This year's festivities again take place on the central piazza of the stunning Meritage Resort and Spa. Nestled among acres of sun-soaked vineyards, Meritage Resort and Spa's relaxed elegance captures Napa Valley's warm hospitality at its finest.
Taste of Napa guests can wander the grounds, sampling fare from more than 70 local wineries, restaurants, and culinary artisans. The Reserve Tasting Salon offers exclusive premium wine tastings in a private setting. Live music throughout the afternoon completes this effortless getaway.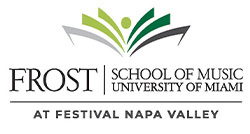 LIVE MUSIC AT TASTE OF NAPA
Multi Grammy-nominated jazz pianist and Dean of the University of Miami Frost School of Music, Shelly Berg, leads The Frost All-Stars in a lively program of jazz and contemporary hits, setting the stage for this annual celebration of wine, food and the performing arts.
Guests 21 years old and over only. Sign up for updates on all things Festival Napa Valley HERE.