Arts for All in Action
Maurillo ("Mau"), 16, was saved by art when he was in the eighth grade. Bored and frustrated in school, he found nothing to fire his imagination or capture his interest in any of his classes. "I was just mad all the time," says Mau. "I felt invisible in school, like nobody cared. And I just didn't worry about getting to class on time."
Habitually truant and repeatedly getting into fights, Mau hit bottom when he shoplifted from a local Home Depot. Caught, arrested, and incarcerated, Mau was directed by his probation officer to either attend community school, or surrender to Juvenile Hall. He chose the former.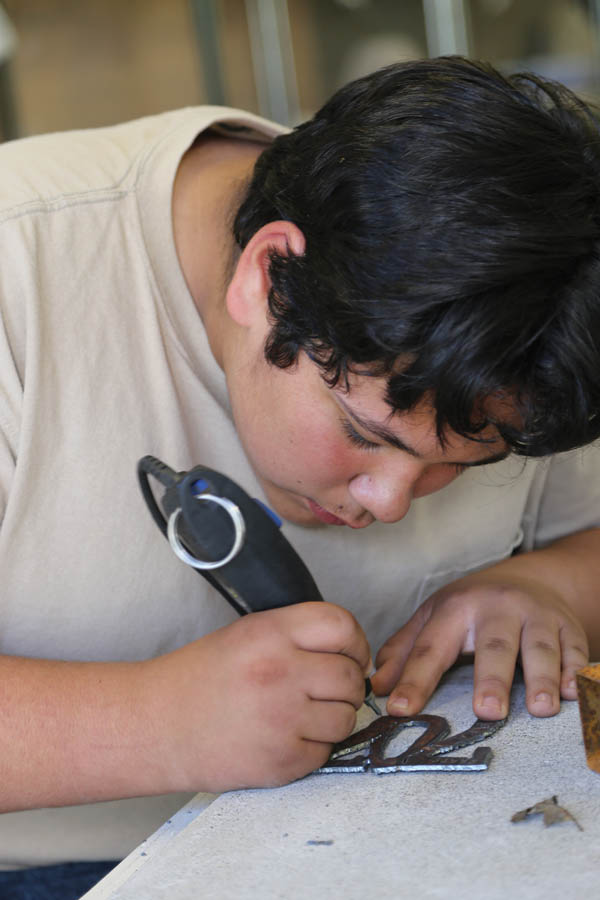 It was at Napa's Chamberlain High Court & Community School that Mau's feelings of hopelessness began to diminish. Within two weeks, he had written a letter of apology to the owner of the Home Depot store. And he quickly found his creative voice during the school's weekly excursions to the Nimbus Arts Center in St. Helena.
Thanks to Festival Napa Valley's Arts for All grant and a partnership with the Napa County Office of Education (NCOE), at-risk students like Mau get access to weekly training at Nimbus, where they are exposed to the artistic mediums of painting, sculpture, metal working, and digital photography.
Mau was immediately drawn to the welder's torch: "There's something incredible about creating with fire," Mau says. Using his newfound welding skills, Mau melded an assembly of custom cars, trucks and bikes with original forged metal, and embellished them with freehand engraving.
Mau discovered his path.
And he is not alone. Like many local students, Mau comes from a working-class family, for whom creative opportunities can be limited, particularly when budget-makers deem the arts to be "superfluous" or "expendable," rather than the life-changing and economically beneficial force they truly are.
Festival Napa Valley's Arts for All approaches these challenges head-on. The festival established strategic partnerships with local school districts and organizations, addressing their specific needs and allowing Arts for All to reach more than 90 percent of the students in Napa County.
"Festival Napa Valley has helped put the arts back into our schools and is transforming education in Napa County," says Barbara Nemko, Superintendent, NCOE.
Since 2012, Festival Napa Valley has awarded more than $850,000 in grants to support visual and performing arts education programs in Napa County. It has supplied classroom art materials for 30,000 public school students; instituted an annual bilingual Concert for Kids for the Boys & Girls Clubs of Napa County; and given more than 100 scholarships to emerging musicians and Napa Valley Youth Symphony students.
Notably, it awarded a $50,000 grant to create Napa County's first-ever Arts Education Master Plan, a roadmap for a comprehensive curriculum for arts education from kindergarten through twelfth grade.
And, during the annual ten days of Festival Napa Valley, Arts for All provides local families, seniors, and students with free and affordable access to world-class performances at this, one of the world's top music and arts festivals.
"Napa County's demographic is diverse in terms of age, race, cultural heritage, and economic opportunity. We always wanted the festival to be for everybody, and for its benefits to be felt beyond two weeks in July," says General Manager Sonia Tolbert. "Our Arts for All programs have proven to be a marvelous way to make that happen."

A Path Upward
Perhaps nowhere is the critical benefit of art felt as keenly as at Creekside, Liberty and Chamberlain (where Mau attends) – the three community schools that make up the Camille Creek Campus of alternative programs, where expelled students are sent to complete their education and, hopefully, stay out of jail.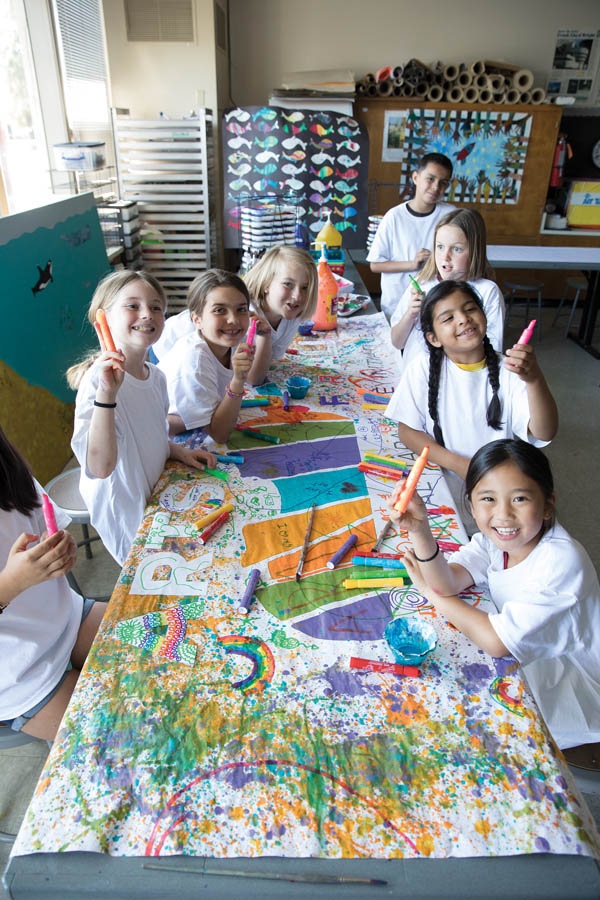 Their specialized programs can completely alter the life course of a student in crisis. "These were chronic truants," says Caroline Wilson, director of the campus schools. "They rarely went to class. Here, we average an 80-85% attendance rate, which is amazing. And no one wants to miss the day we go to Nimbus!"
At Nimbus, personal strengths uncovered via the arts and hands-on creative experiences help redirect the students' downward spiral into an upward path of possibility.
That has certainly been the case with Mau. He now hopes to continue his education in the welding program at Napa Valley College, and he and his cousin Oscar are talking about opening a shop together. He also dreams of getting his hands on a 1949 Fleetline or an early '60s Impala, so that he can turn it into the car of his dreams. And he's giving back, creating two custom bikes for fundraising auctions at the two institutions instrumental in his turnaround: Nimbus Arts (for its annual Nimbash "arty party" in May), and Festival Napa Valley – which will auction off one of Mau's bikes at its Arts for All Gala on July 16, at HALL St. Helena.
A success story like Mau's illustrates the tangible impact Arts for All can have on individual lives.
"We have incredibly generous donors, and they all certainly have a wide array of causes clamoring for their dollars. We're honored they chose us," says Tolbert. "Arts for All takes our cause out of the abstract and puts a face on it. This is investment in human beings, our most precious resource. And this investment is reaping tremendous dividends."
As it has with Mau, who says he regrets the time he wasted not paying attention in school earlier. "I now know school will get you where you need to be," he says. And although he's still reluctant to call himself an artist, he's grateful for the presence of art in his life.
"Art to me means something I can use to get my feelings out; my life story. It feels so good to put it out there."
–Beáta Jachulski Baker
---
Beáta Jachulski Baker is a writer and editor living in the Pacific Northwest. She had the best strawberries of her life during a visit to Napa, along with an artisanal Portuguese cheese she would kill for to this day.